The overall Somerville apartment rental market is looking healthy. Rental increases are in line with local wage inflation and property tax increases based on assessments. This year highlights another year of steady growth for Somerville apartment rental prices amid an ever expanding Greater Boston real estate market. This report will cover ranges of rent in and throughout Somerville as well as overall rental pricing power in the marketplace. You will see a micro-neighborhood break down of rents throughout Somerville. You will also notice rock-steady rents with few major dips even during the slower volume seasonal leasing periods.
As development in Somerville continues to become more challenging due to increasing zoning regulations and anti-development groups, expect prices to stay steady or continue to climb. Somerville has long been a favorite for real estate developers, but with increased impediments and headwinds against them – things are starting to change. While the City of Somerville has been the site of some of the most talked about new developments going up in recent years this may not be the case going into 2020 and beyond. In the future, there could be limiting supply and that always has been the dominant rent driver of higher pricing. Somerville gets a significant push in rental pricing from many high tech and Bio tech companies that form within their borders or in close proximity. With the local and national economy on fire, and unemployment at record low levels; it will be safer to assume steady or climbing prices rather than falling ones in the short term.
Geographically, Somerville is in a prime location, because it is very close to downtown Boston but also outside the city to make it an attractive location for both renters and home buyers alike. With Green line extension improvements slated, the long term picture also weighs on the side of rents going upward unless supply is addressed.
As parts of Cambridge and Downtown Boston become more and more expensive, some renters naturally turn to Somerville. Downtown Boston has a large amount of luxury buildings that were not considered in the data chart below to keep it as accurate as possible. Somerville provides a location just minutes from the action in Boston, but the cost of living is more in line with what's considered average in Boston. With the exception of Studios, the average rent price for an apartment in Somerville is within $100 of the average rent price in Boston for a same sized apartment.
Somerville Micro Neighborhood Rent Prices by the Numbers
| | | | | |
| --- | --- | --- | --- | --- |
| Town Neighborhood | 1 Bedroom | 2 Bedroom | 3 Bedroom | 4 Bedroom |
| All Areas | $2,138 | $2,520 | $2,999 | $3,697 |
| City Of Boston | $2,174 | $2,572 | $2,998 | $3,626 |
| Outside Boston | $2,060 | $2,435 | $3,002 | $3,822 |
| SOMERVILLE | $2,088 | $2,504 | $3,048 | $3,840 |
| SOMERVILLE – DALI/ INMAN SQUARES | $2,282 | $2,711 | $3,328 | $3,827 |
| SOMERVILLE – DAVIS SQUARE | $2,324 | $2,745 | $3,466 | $4,141 |
| SOMERVILLE – EAST SOMERVILLE | $1,919 | $2,297 | $2,890 | $3,666 |
| SOMERVILLE – MAGOUN/BALL SQUARE | $2,123 | $2,492 | $3,079 | $3,991 |
| SOMERVILLE – PORTER SQUARE | $2,300 | $2,502 | $3,343 | $4,211 |
| SOMERVILLE – SPRING HILL | $1,985 | $2,424 | $2,822 | $3,160 |
| SOMERVILLE – TUFTS | $2,100 | $2,511 | $2,967 | $3,767 |
| SOMERVILLE – UNION SQUARE | $2,136 | $2,603 | $2,966 | $4,075 |
| SOMERVILLE – WEST SOMERVILLE/ TEELE SQUARE | $1,600 | $2,050 | $2,905 | $3,889 |
| SOMERVILLE – WINTER HILL | $2,087 | $2,511 | $2,743 | $3,571 |
As far as micro-neighborhoods within Somerville, Davis Square wins the title as the most expensive area to live according to the data: it is the highest average rent price for 1 bedroom and 3 bedroom apartments at $2,384 and $3,433 respectively. It's also second highest for 2 bedroom apartments at $2,729 and 4 bedroom apartments $4,141.
Porter Square comes in at a close 2nd as Somerville's most expensive micro-neighborhood. It holds the highest average rent for studio apartments and 4 bedroom apartments at $2,200 and $4211 respectively. Porter Square also has the 2nd highest average rent price for 1 bedroom at $2,300 and is among the most expensive for 2 bedrooms and 3 bedroom apartments at $2,459 and $3,339 average rent prices respectively.
It is safe to say that Davis Square and Porter Square dominate the most expensive areas to live in Somerville.
Anyone looking to save money on rent in Somerville should consider the areas of Winter Hill, Spring Hill, or West Somerville/Teele Square for the best deals. These areas fall in the mid to low category for average rent prices compared to the other micro-neighborhoods in Somerville. We also see more landlords in these areas willing to pay broker fees during fall – winter months. If you can wait to rent during the late fall/winter months you can often score a great deal. Keep in mind many landlords will want you to get back on the larger renting cycles of 9/1 or 6/1. Be prepared for a shorter lease or perhaps a landlord will ask you sign a lease longer than 18 months so that they can return to the higher volume renting periods.
The Year in Review – Somerville Apartment Prices
Looking back at 2019, Somerville saw steady growth of about 2-4% on average rent prices throughout the year for 1 bedroom, 2 bedroom, and 3 bedroom apartment prices. The price of a 3 bedroom apartment rose 3.7%, and is currently sitting above $3K line at $3,048. The price of 2 bedroom increased by 2.5% in 2019.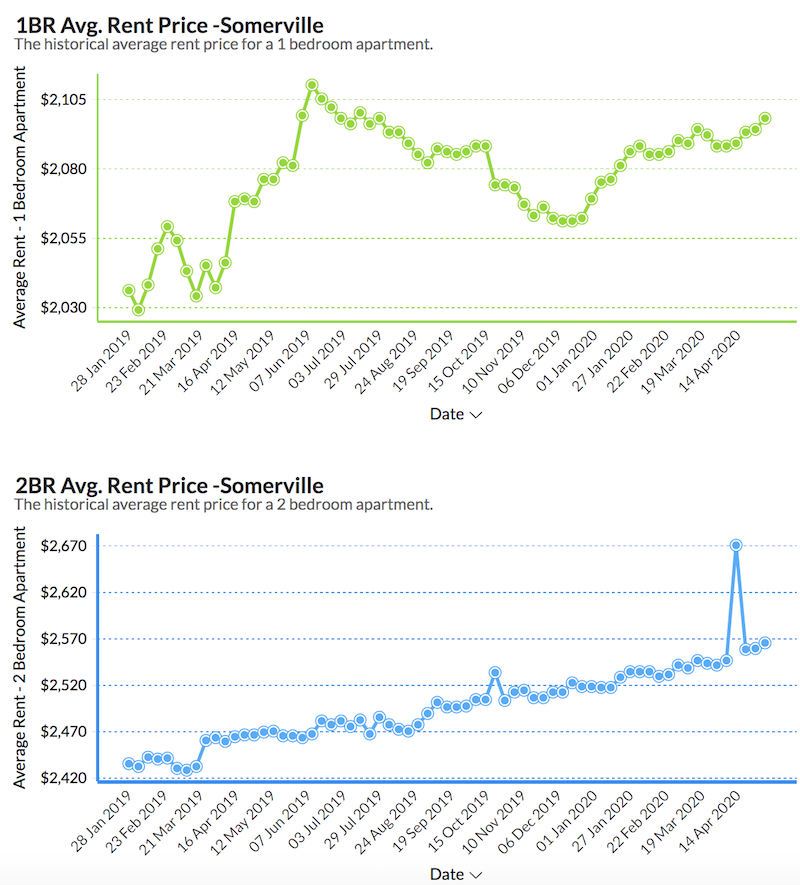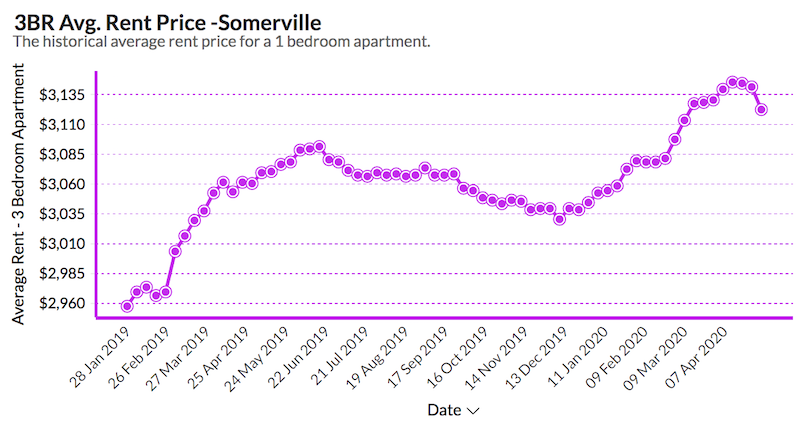 While it could seem overwhelming to a renter to apply sweet science to apartment hunting; it's really not that complicated if you have flexibility and you stick to a plan. Somerville requires a steady hand and looking at units with the ability to move on a price break quickly.
Due diligence is key. Landlords can also follow a formula of success if they use proper planning as well. If you are a tenant looking for a great deal on an apartment, take a look at all the awesome listings found on somervillepads.
If you're a landlord in Somerville, and you're looking to gain access to valuable market info like this, talk with one of the Somerville apartment rental experts today by either calling or filling out the form here!
Call us at
(617) 208-2121
or
contact us here
.